ARMOROC is a structural cement board (cement bonded particle board - CBPB) used in the construction of fire-resistant roofs, floors, walls and a variety of other applications.
Important:  Confirm products meet local code before specifying, purchasing or installing.   

ARMOROC® Key Benefits
Structural:  Span-rated, shear diaphragm values available
UL Assemblies:  UL Floor & UL Roof Assemblies
UL & ULC Classified:  File# R25825
Fire Resistance: 'Class A' per UL 723 / ASTM E84 (0 Flame / 0 Smoke).
Mold/Fungus Resistant:  Does not support mold/fungus growth
Moisture Resistant:  Resistant to weather, freeze/thaw & standing water
Termite/Vermin Resistant:  Provides no food value to insects/vermin
Impact & Abuse Resistant:  Made from durable Portland Cement
Acoustic Performance: STC ranging from 56-60, IIC ranging from 33-62
Workability:  Installs quickly using standard carpentry tools and equipment
Dimensionally Stable: Excellent resistance to dimensional changes.
Environmentally Friendly:  Composed of post-industrial materials, no added HCFC's/VOC's, formaldehyde or asbestos
LEED Credits:  MR Credit 4, EQ Credit 3, EQ Credit 4
ARMOROC® Features
Wide range of thicknesses
Available in 4' x 8', custom sizes / fabrications may be special ordered
Interlocking tongue & groove edge available (on 5/8" or thicker)
Available with or without factory

sealer
ARMOROC® Applications
Structurally span-rated up to 16" on center (see install specifications)
UL Fire-Rated Floor Assemblies on Steel / Wood Joists & Trusses
1 & 2-hour fire-rated floor/ceiling assemblies (1-layer of gypsum board)
Shear diaphragm designs available (with and without glue)
Installs using standard carpentry tools and equipment (single trade installation)
Lightweight, cost-friendly alternative to pouring concrete
Accepts traditional floor finishes such as hardwood, tile, carpet and more
Ideal for areas where pouring concrete is difficult (mezzanines, catwalks, tiered seating, platforms, etc.)
Durability of Portland Cement on a sloped roof
UL Fire-Rated Roof Assemblies (1 & 1-1/2 hour): P523 & P526
Accepts roofing shingles, metal roofing, slate, tile & more
Can be exposed during construction without compromising fire rating
Use for fascia & soffit panels, parapet walls.
Excellent for interior & exterior walls, partitions, curtain walls & more
Great substrate for exterior finish & trim material
Abuse resistant
ARMOROC® Accessories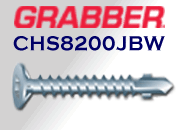 Ameriform has tested Grabber products for use with our structural cement board systems and recommends them for use in all our structural floor, roof & wall applications.
Ameriform is an authorized dealer for all Grabbers tools, fasteners, bits, accessories & parts. We can sell & ship your installation system with your building materials. Simplify your purchasing process and contact us for a price!

Grabber HS8200JBW - Structural Cement Board Screw
Lab Tested and Field Proven for Structural Cement Board (CBPB) and Structural Fiber Cement Board installations over metal framing.
Features:
LOX Drive – proprietary drive, 12 points of contact, no waste, no wobble, no cam out, no slivers, stick fit, high torque, drives off angle, exceptional bit tip life.
Self-Countersinking Ribs - under the head ease countersinking and leaves smooth clean edges (no mushrooming)
Self-Drilling, Winged Tip – allows this fastener to drill through dense structural cement board and into the metal framing without clogging the threads or racking / lifting the decking before the fastener penetrates through the metal framing member.
Grabber Guard Coating – protects fasteners from corrosion due to moisture as well as galvanic action due to high Ph consistent with portland cement.
Ameriform sells these in bulk cases (2500 pc count) or in custom packed small boxes (500 pc) for smaller jobs.

Grabber – CHS8200JBW / SuperDrive 7540XT - Collated Structural Cement Board Screw and Collated Screw Gun for Rapid Deck Installations.
Grabber's SuperDrive industrial-strength, fully automated fastening tool is engineered with a durable, lightweight, compact design and is built to last. Grabber has a SuperDrive tool for almost any fastening application including sub-floor, roof-decking, wall sheathing, drywall, metal framing and more.
SuperDrive® system includes:
Grabber SuperDrive Deck Tool (model # 7540XT)
Grabber SuperDrive Collated Cement Board Screws (model # CHS8200JBW)
ALL GRABBER ITEMS ARE IN STOCK!

PEMCO P5100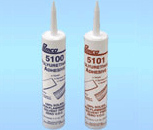 Ameriform has tested PEMCO P5100 adhesive for use in Armoroc fire-rated floor assemblies. Pemco P5100 is a 100% solids (zero V.O.C.), one component, moisture cure, polyurethane adhesive. PEMCO P5100 is an important component of Ameriform's fire-resistant building system, and can be used to bond the joints of ARMOROC™ Panels in structural floor and/or roof applications (requirements vary by application).
Customers can purchase PEMCO P5100 directly from Ameriform to fulfill their adhesive requirements. Purchase PEMCO 5100 as part of your building system package, or as an individual component. Product comes in 11 ounce tubes and can be purchased by the case (30 tubes) or individually. PEMCO P5100 is IN STOCK! and ready for shipment. Pemco is manufactured by Alpha Systems Inc, an ISO 9001 registered factory.
Please contact a sales representative for pricing & availability.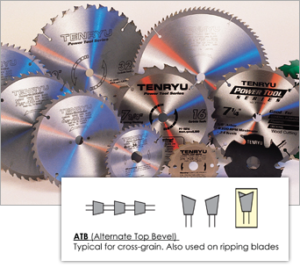 Tenryu is known around the globe as the premier manufacturer of quality saw blades. Tenryu tested our structural cement boards and selected Model PT-18524AM, 7-1/4" Blade, 24 Tooth Carbide Tip circular saw blade for cost-effectively rough-cutting through dense structural cement board. Ameriform carries these blades in stock as part of our installation system. You can buy them by the case (100 pcs), by the box (10 pieces) or per blade. Contact a sales representative for pricing and availability.
As an Authorized Tenryu dealer Amerfiorm has access to every Tenryu blade available. If you are looking for a Tenryu product, Ameriform can get it.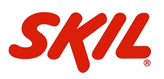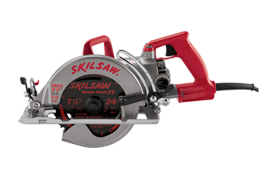 Ameriform researched every cutting system and selected Skilsaw Model SHD77M for rough-cutting dense structural cement board. The Skilsaw Model SHD77M is a 7-1/4" Magnesium Worm Drive corded saw designed with enough strength and durability to stand up to cutting dense structural cement board over the long term. Equipped with a powerful 15 Amp Motor, the light magnesium housing (2 lbs. lighter) reduces user fatigue.
Ameriform is an authorized SKIL dealer and carries the SHD77M in stock for shipping with your structural cement board and accessory order as a kit. Contact a sales representative today for pricing.
Armoroc® is a registered trademark of Ectek International, www.armoroc.ca